Hi people! Hope your hump-day has treated you well.
This week's WIAW is not really an account of what I ate today. Instead let's review the meals I remembered to photograph since Saturday.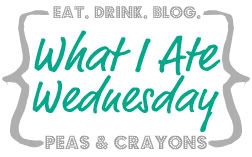 Breakfasts
Of champions on Sunday.

This is called: I didn't have time to pack breakfast and frantically ran to the hospital cafeteria for sustenance.
That's oatmeal right? I'll give you a hint…
A lovely coworker returned from vacation bearing the above gems. I think you know where this is going…
Peanut butter fudge is to a part of a complete breakfast!
Lunches
Turkey Mushroom Lasagna leftovers.
Veggie platter at Maiwand Kabob. Delicious!
Simple salad with hummus and you guessed it: caramel corn. Caramel corn was pretty much in my hands every time I rose from my chair these last couple of days at work.
Bonus points to the super huge cluster!
Snacks
Halva pistachio posicles with crazy quantities of whole pistachios!
Second attempt at fancy cereal. Yes, I know I'm late to this party. Cheerios, 2 peaches (yes 2, I finally finished that darn box), a scoop of peanut butter, and a splash of milk.
Dinners
Lentil stew. 1/2 cup of lentils, 3 tomatoes, piece of chopped onion, cumin, chili powder, apple cider vinegar, and s & p.
Carrot and sweet potato chickpea curry fritters. That's a mouthful! I basically used The New Healthy's latest recipe for Healthy Broccoli Slaw and Sweet Potato Fritters. I used 1.5 cups of shredded carrots in place of the broccoli slaw and seasoned my patties with 1/2 t curry powder. It's a pretty awesome recipe Stefanie! I only wish I had some yogurt to dip them. Although, hummus did the trick. I love dipping chickpeas in chickpeas.
Dessert
Monday was National Cheesecake day so I headed over to the Cheesecake Factory to pick up my half priced slice of heaven (Adam's Peanut Butter Cup Fudge Ripple). The promotion said dine-in only, but if you asked the cheesecake counter they were allowing take-out cheesecake orders to apply. Shhhhh! It will be our secret for next year.

Thanks again Jenn! Back to studying for my first exam (and watching the Men's gymnastics all-around) I go!