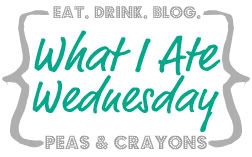 No breakfast was had because we slept in, found crazy power outage lines at Starbucks, and decided to see a 10:15am showing of Tyler Perry's new movie. It was okay.
A Larabar and an iced coffee were eventually accomplished. No picture because this chick was hangry by this point.
Lunch was rotisserie chicken with a salad and tortillas from Guapos.
Snack from 7-11…
Dinner was my own doing…
Potato recipe from The Great Balancing Act. 
Turkey Burger recipe ala my mom. (3lbs ground turkey, one diced onion, big handfuls of chopped parsley, one lemon juice, 1/4 cup of bread crumbs, s&p.
Apple Cinnamon Muffins from One Happy Table. (No cardamom used)
Hope you had a yummy Fourth of July!!