I post a lot of my food weekly, but this is my first official WIAW post.
I've been reading posts in this party for months and I'm happy to join in and extend a big thanks to Peas and Crayons.
So here it goes…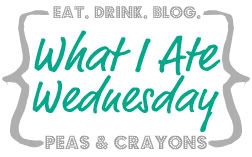 Breakfast felt like robbery. Literally, like I robbed the hospital cafeteria.
Check out the goods I got for under $3.50. Although that may not be a steal at a grocery store, this is a hospital eatery where most 'real' meals clock in around $7 or more!
Oatmeal (later sprinkled with cinnamon), a banana, and 2 hard boiled eggs. The complete balanced breakfast.
Coffee with soy creamer to wake me up.
I would like to title lunch: The Best Lunch I Didn't Plan
I fell asleep early in my recovery Monday and woke up with no food prepared for lunch. I considered buying out but then I remembered my goal to eat less outside meals this week. Solution:
Baked Microwaved sweet potato, last of my shredded cheese, a whole avocado, and two eggs (I was too filled with oatmeal and banana to eat them for breakfast). This strange combination of ingredients had some super staying power.
Super juicy peach on the side.
Have you seen those fruit2day commercials where the "office worker" takes a bite of a peach and the juice falls everywhere? That was me today.
In the afternoon I only had the urge to snack once. My coworker shared these from her vacation to China.
No, these aren't wasabi peas. They were wasabi peanuts!
So dang delicious. They didn't last very long in this office.
The coworker who introduced this spicy peanutty awesomeness swears they can't be found in the US. – Challenge Accepted!
I also had small crunchy sweet 'rice cake' from China, but it disappeared too fast to picture…oops.
Jasmine green tea for the 3 o'clock hour.
After work I was visited again by the popsicle fairy from the 7th floor.
Holy homemade popsicle heaven. New flavors this week: Fig yogurt and Strawberry.
I ate 3 popsicles off the bat.
From left to right: Halva, Fig yogurt, and Lavender lemonade. Still have no idea how much sugar this wonderful man puts in them and still no regrets
Dinner was a lentil curry recipe that was substituted beyond recognition. Like coconut flour in place of coconut milk and pureed grape tomatoes in place of diced tomatoes. Yikes! Substitutions like those either completely destroy a recipe or create something delicious and different.
Luckily the latter was true. Lentil curry, quinoa, and roasted green beans with ketchup on the side.
Sweet tooth finale:
Adora Dark Chocolate Disk with peanut butter on top.
That concludes my first WIAW post. I leave you with this closing thought. Too many popsicles, so little time. #Singlepeopleproblems